Every professional wrestler has a story to tell, and some of these stories are nothing short of inspiring. Whether they make it to the WWE or spend their career in the indies, every man and woman who laces up the boots has a story about overcoming obstacles in pursuit of their dream.
The Great Cheyenne has overcome more than most in her career. She was a single mother when she told her relatives she wanted to become a professional wrestler, and she found no support at all from her family.
"The people around me thought I was ridiculous, and it wasn't something a single mom should be doing or engaging in. I was highly criticized, but I did my best to look past that because it was worth the criticism if I felt that happy doing it."
The Great Cheyenne refused to give in to the criticism. A fan since she was a child, she felt perfectly at home when she finally made it into a ring. "Some of us women are tomboys, you never really feel like you fit in or like you can really belong because you're not the typical girl. I wasn't into dresses and girly stuff, but when I stepped in the ring, I felt like I was exactly where I needed to be. The shoe fit so I wore it; in my case the boot sure did fit. I am not a small woman, so when I was in the ring it was like the ring fit me, the size of my head, my nose, my hands, and my rough nature."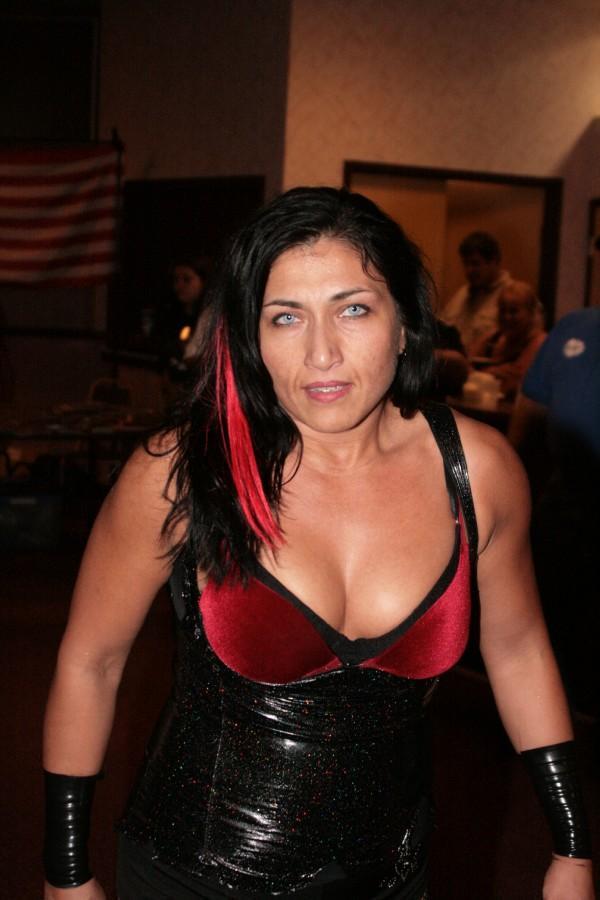 The Great Cheyenne began her training in Chicago, where she first broke into the independent scene. She later trained with the legendary Savoldi family on the East Coast and furthered her education with Hall of Fame stars like Bob Backlund and Kevin Von Erich. She developed a physical toughness only exceeded by her inner toughness, and for twenty years, she has battled to earn her spot in independent wrestling.
It has not been an easy road. Family has always come first for The Great Cheyenne, and she's had to pass on many opportunities in order to do what was best for her children. She's always followed her true north, steering clear of temptation and the shady side of professional wrestling while staying true to herself.
Having grown up a fan herself and breaking into the business as a single mom, children have always had a special place in The Great Cheyenne's heart. So when the opportunity to write a book arose, it was a no-brainer who her target audience would be.
"Children are some of our greatest fans. With their innocence and with their intuition they know who is genuinely good and legit even when you are a great heel. Some of my best memories are of my fans that were little kids. I care a lot about their growth and well-being, as a single mother of two children and a daughter of a migrant mother who worked hard all the time and was tired, I am aware and conscious of the hard times some children are enduring out there feeling alone.
"I want to be a voice of hope for those little kids, for those dreamers and for those especially having hard times that they don't even realize they can dream because their hardship doesn't allow it. Many times our parents do not have time, are suffering depression, or just working hard, and right now with politicians coming down on dreamers, I want them to know someone is in support of their right to dream and their pursuit of happiness."
The Great Cheyenne partnered with illustrator Jason Eaglespeaker to bring her vision to life. "I have known him for 7 years now. He did a comic strip for my character some years ago. We have been supporters of each other's work for some years now. So I trusted him and I am a fan of his work. He has done excellent work as a grassroots indigenous Native American author, artist and community activist. I respect and believe in his work. Jason knew exactly what to say to me. I don't believe in coincidences. I feel it was meant to be him that I worked with, his work and his messages for hope and success are solid, pure and good for our people."
Both Eaglespeaker and The Great Cheyenne have high hopes for how the book will touch readers young and old. "We want to inspire them to live in their fight for self-preservation, truth, happiness and ultimately to follow your own North in a noisy sometimes unsupportive world. Be you and dream whatever dream makes your soul feel you are being your own you."
The Great Cheyenne is now available on Amazon.com. If there's a young reader in your life who is also a wrestling fan, I strong encourage you to pick this one up. Whatever their dreams may be, The Great Cheyenne's story will be an encouragement and and inspiration to them.
The Great Cheyenne herself can be found online on Facebook, Twitter, and Instagram. She is currently the Women's Champion for RoadRubber Wrestling in Portland, Indiana and recently defeated, TNA's Rebel. She will be back in Portland soon defending her title!