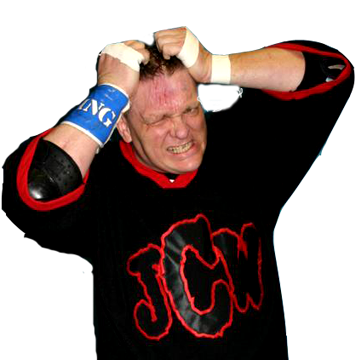 The cat is out of the bag. Mad Man Pondo is writing a book.
After years of being badgered by friends and fans alike, Pondo has agreed to put his incredible story into writing. It will be my honor to help him do just that.
This won't be an ordinary autobiography, however. First of all, it's Mad Man Pondo's autobiography. It's going to be filled with blood, violence, and some of the wildest tales ever spun by any professional wrestler.
Second, Pondo won't be the only one telling the story. This story will also be told by the people who know and love the Mad Man.
Pondo is inviting all wrestlers, referees, promoters, fans, and friends who have a story to share to contribute them to this book. If you have a tale to share, please connect with my via email or on Facebook, and let me know your Pondo memories.
If you just can't wait for the book, you can pick up a copy of Eat Sleep Wrestle while you wait. The book covers more than a dozen independent wrestlers, old and young, and a number of Mad Man Pondo stories. It's worth the cover price just to read Austin Bradley's epic tale, "One Night In Tennessee With Mad Man Pondo."