Since my hometown is all over the dirt sheets this weekend, I thought it might be a good time to share a little of our professional wrestling history. New Albany, Indiana has had a long history with professional wrestling, due in no small part to its proximity to Louisville, Kentucky. In fact I almost dedicated an entire chapter of Bluegrass Brawlers to the city of New Albany's unique wrestling story.
Promotions in New Albany
New Albany has played host to a number of independent promotions in the last couple of decades including (but not limited to) IWA Mid-South, Destination One Wrestling, XCW, and the name everyone now knows, Pro Wrestling Trainwreck. It's worth noting, however, that so-called "outlaw" promotions are nothing new here. Back in 1941, while the Allen Athletic Club was still on the rise as THE promotion in Louisville, a group of sports lovers founded the Hoosier Fistic Club, a joint boxing and wrestling promotion intended to bring both sports to New Albany. It was an audacious endeavor spearheaded by president Seymour Hull and matchmaker Johnny Lovell. It was also short lived, as the club faced an uphill battle to draw fans away from Heywood Allen's wrestlers and the many boxing promotions already active across the river.
Col. Stu Gibson
While wrestling in New Albany failed to take off, the Allen Club often featured Hoosier starts including a number of New Albany natives. Far and away the most famous of these was Stu Gibson, a New Albany High School graduate who was a stand out athlete in multiple sports. After serving his country during World War II, Gibson became a football star at the University of Louisville and was named a Kentucky Colonel after setting the school record for scoring. Gibson was a Golden Glove boxer but chose to pursue wrestling instead, becoming one of the most hated heels in Louisville and later San Antonio.
Lord Humongous
In the 1980s another New Albany native rose to frame as the masked Lord Humongous, a character based on the villain from the movie The Road Warrior. Like Stu Gibson before him, Jeff Van Camp played football at U of L and took a job as a security guard at Louisville Gardens after an injury ended his playing career. Jerry Lawler invited Van Camp to train with him in Memphis. Lord Humongous became a WWA Tag Team Champion with Dick the Bruiser. After relocating to Florida, he became the NWA Southeast Continental Heavyweight Champion and a three time NWA Alabama Heavyweight Championship.
Leviathan
Another monstrous wrestler "born" in New Albany is Leviathan. In the early 2000s, when WWE was sending its developmental prospects to Ohio Valley Wrestling for seasoning with Danny Davis and Rip Rogers, there were two infamous wrestling managers dominating the scene: Kenny "Starmaker" Bolin, and Synn. Versed in the dark arts, Synn made a trek down to the Ohio River in New Albany one evening and summoned forth the demon Leviathan to join her faction. Leviathan rose out of the waters ad became a member of the Disciples of Synn, wreaking havoc on countless foes at the Davis Arena in Jeffersonville.
Okay, okay, so Leviathan isn't actually a demon, and he's not actually a native of New Albany. Leviathan was the first persona adopted by Dave Bautista, a character he dropped before he ever appeared on WWE. That said, the video of Leviathan's "creation" was filmed on the banks of the Ohio River, with Bautista gamely wading out into the less-than-crystal-clear waters to rise up from the deep. It was a humble beginning that led to great things for the man who has become a true movie star.
"Crybaby" Chris Alexander
I'd be remiss if I didn't mention my old friend Jason Lindsey, who worked as "Crybaby" Chris Alexander during the WWE developmental days at OVW and was behind the camera the night Leviathan was "born." Jason and I were both members of the marching band during our days at New Albany High School. We were friends then, but I honestly had no idea he was a wrestling fan until the day someone told me he was training to be a wrestler. Jason shared a locker room with all the big names who came to town including John Cena, Batista, and Mark Henry, and he wrestled them all. His biggest claim to fame is one he won't claim for himself. During a show at St. Therese's Gym in Louisville, Jim Cornette made all the WWE signees go out and watch Alexander make his entrance to "Dude Looks Like a Lady." Cornette loved the way Alexander took his time getting to the ring and playing to the crowd, and he held him up as an example of how it's done to a group of future superstars.
"Iron Man" Rob Conway
Without question, the most decorated wrestler to come out of New Albany is Rob Conway. A star basketball player in a town that LOVES its high school basketball (Romeo Langford, anyone?), Conway was part of OVW's first class of students, the men Danny Davis trained to train all the students who came after them. He is one of the few wrestlers who came into OVW as a beginning student and earned a WWE contract. Conway won multiple heavyweight championships and tag team championships at OVW before being called up to the WWE, where he won the WWE Tag Team Championship with Sylvan Grenier three times. After leaving OVW, Conway traveled the world working the independents and won even more gold, becoming a four time NWA Tag Team Champion and two time NWA World Heavyweight Champion. He is part of an elite club of wrestlers who can say they worked both Wrestlemania and New Japan's Wrestle Kingdom show.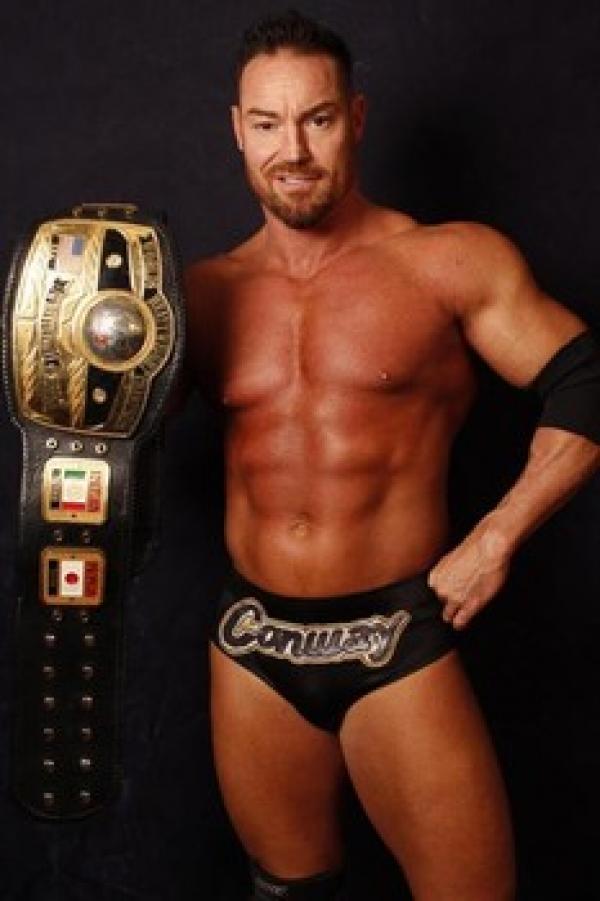 Time will soon tell what the fallout will be from last week's Pro Wrestling Trainwreck show. The facts of the story are still coming out, and time will tell what repercussions, fair or unfair, this story will have on wrestling in New Albany. The bottom line is professional wrestling is in the blood of New Albany sports fans as much as it is anywhere. We are living in a boom time for professional wrestling, and the history of the sport in this town is far from over.